Tech Tuesday: Proper Helmet Fitting
Photo by Brian J. Nelson
---
The topic of motorcycle helmets is very broad and because of this we will separate helmets into a multi-segmented feature. This week we will cover what you need to look for in a helmet, as well as proper helmet fitment.
Having a properly fitting helmet is the most critical component you should factor in when looking to purchase a new helmet. When spending hundreds of dollars on a new helmet, it's vital that you select the proper size. We spoke with Arai's Bruce Porter on why it is so critical to have a proper fitting helmet. Here are a few of the main issues:
A poor fitting helmet keeps you from enjoying the sport of motorcycling.
A loose fitting helmet is a less-effective energy management tool.
A loose fitting helmet will not protect your head as well as a tighter fitting helmet in the case of an accident.
A loose fitting helmet will let more wind/road noise through in comparison to a tighter, more properly fitting helmet.
A loose fitting helmet wears out twice as fast as a tighter/property fitting helmet, because you're always moving around inside of it while you're riding.
A loose fitting helmet starts loose, and gets looser.
How can you properly ride a motorcycle with both hands on the handlebars when you're too busy adjusting your helmet? One less hand on the handlebar drastically reduces your ability to correctly react to a road hazard.
Properly fitting a helmet:
Porter has found that most riders have an incorrectly fitting helmet, especially in America. Guessing how a helmet is supposed to fit and fitting yourself for a helmet are bad ways to start off shopping for a correctly sized helmet, based in part because finding your actual head size cannot be done alone.
Many people are misguided in believing that a helmet that feels right to our facial structure is a properly fitted helmet. Because facial structures tend to differ in size, many people purchase a helmet that will fit their face comfortably, but not the upper portion of their head. Though facial fit is very important to comfort, it's not the priority, as there's no brain in your face. Helmets are intended to protect your brain from injury in the event of an accident, so protecting the skull is first and foremost.
The correct way to get fitted for a helmet:
Find a soft-cloth tape measure (something used in measuring clothing sizes). Metric unit tape measures provide a more accurate reading when compared to standard units.
With someone, have them stand at your shoulder, and look at your head profile (side view).
Have them take the soft-tape measure and run it horizontally around your head, parallel to the ground. The soft-tape measure should run close to your eye brows, and ears. The goal is to find the longest distance (circumference) around your head. This exercise could take multiple tries, but it is worth it's weight in gold. Each helmet manufacturer has their own measuring guide for their helmets, which means that a size XL in one brand may be a size L in another brand.
Once you have your correct head size, you can make an informed decison as to what size helmet you can purchase for any given manufacturer. As for facial fitment, many brands of helmet manufacturers have cheek pads that allow for a custom fitment.
For more information, you can watch Bruce fit a person's head to get the correct measurement at http://www.youtube.com/watch?v=aOCgazruSc8.
What separates a protective helmet from a novelty head cover?
A protective helmet has:

An energy-absorbing head liner. This liner is typically an EPS liner. EPS (polysterene) liners can have multiple densities depending on location within the helmet.
Hard outer shell for energy displacement.
Soft inner shell for energy absorption.

Typically speaking, if you pay more, you get a better fitting, more comfortable, better tested, higher rated helmet which has more technological advancements.
A true helmet will have certifications and ratings letting you know that you're getting a quality helmet.
Ratings of helmets:
Two helmet approvals to keep in mind when selecting your next helmet are DOT (Department of Transportation) and SNELL. A DOT approved helmet should be the first thing to consider when looking to purchase. A SNELL certified helmet should be the next step when looking for approvals and certifications on the helmet. A SNELL approved helmet is the best assurance you can have to know that your helmet meets DOT and SNELL standards. For more information on how SNELL helmets are tested for certification, along with DOT vs. SNELL approval, go to smf.org.
A little background on Bruce Porter:
Porter provides a service known as "race service" at AMA Pro Road Races. When racers drop their Arai Helmets off at his tent, he immediately dries the interior of their helmet, polishes the exterior, clean the shields, changes the tint of the shield depending on weather conditions and installs "tear-offs." The purpose of a tear-off is to allow riders to tear off multiple thin plastic films from their helmet's shield in order to have the clearest view throughout the race. Porter plays a critical role in helping to keep riders focused on the job they need to do by removing the burden of keeping their own helmets in optimal condition. The racer and his relationship to the crew chief is a key component to a great race weekend, so being able to take any burden out of the racer's day relieves stress from his weekend and gives him more time to talk strategy with his team, thereby improving overall performance.
Porter has participated in over 300 International Motorcycle Shows and is a professional speaker who highlights the intricacies of proper helmet fit. Over the course of his career, he has fitted helmets for over 500,000 motorcyclists.
---
What's your take?
We hope everyone had a great Christmas! What motorcycle gifts did you receive?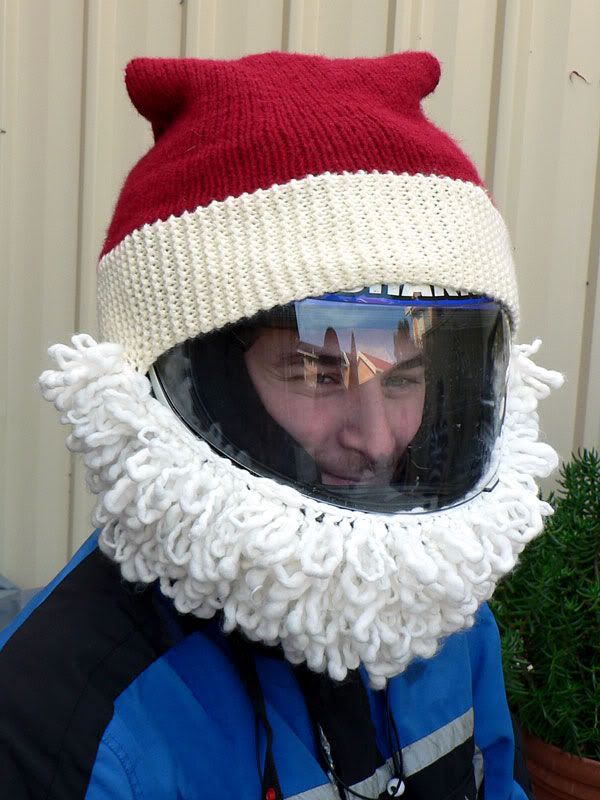 Click here to comment (external link)